production started
streamio
ONE
The fast and furious mobile rack for livestreamers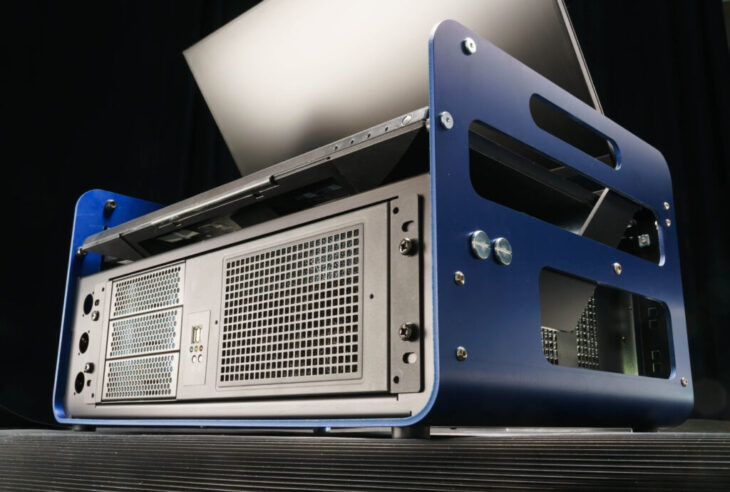 Leipzig march 23nd 2023
+++end of preorder phase+++
+++kickstarter campaign continues for 5 more days+++

today was the last day of rebated orders. We closed the order list by tonight.  A big thank you to all livestreamers and AV-pros who already ordered and paid in advance. We feel honoured and trusted – and will do anything to prove you were right by ordering a streamioONE.
But there is good news for those who were reluctant to order from people they dont know: the kickstarter campaign startetd a little late but it started and will end Tuesday march 28th – here is the way to go: http://kck.st/40nYQ3X
thank you very much for backing!
martin
Leipzig march 15th 2023

Dear friends and customers,
happy news today for us and you: we started production by sending our construction files to the local company which does the laser cutting and bending for us. They gonna process and check these files and will do the actual laser cutting in week 13 of 2023. This gives us the chance to increase the number of units to be manufactured until they actually start cutting.
Before this, we made some improvements on the streamioONE, we are sure you will appreciate:
-now the mounting holes for the jacks are in the right places (upper left + lower right seen from the outside
-we added two spring pins on the right hand side of the streamioONE to give the monitors even more stability.
-we added 5mm in depth to better protect cables at the backside of the streamioONE – it still fits perfectly in the pelicase 1637 air.
Because some of you asked about a couple more days to decide on their order – we are happy to announce the prolongation of the order period to March 22nd 2023.
And we also extend the validity of the 200€ rebate to the above date when ordering and paying by this date.
This is also a reminder to those who ordered, but didn't pay by today – will will execute your order if the payments arrived by March 22nd – thanks ordering.
Leipzig/Germany February 27th 2023:
Dear Livestreamers and AV-PROs,
We're happy to present our newly built streamioOne vMix machine – We will build a small series of about 30 of these lasercut housings and offer it to "the world" – What do you think about it? Is there a need for such thing? Or more precise: Do you want to have such a great piece of engineering? Let us know! As soon we have 30 subscribers by march 15th we will start production.
Our story and the story of streamioONE
We are livestreamers since 2017, based in Leipzig/Germany and we have to setup our equipment on location very quickly – we used Laptops, FlyPacks and rackmount of any sort but there was always either a lot of cabeling to do or we had oversized Rack Towers to pull out of the car and up to the venues FOH – For long we have been searching for the "perfect case" and we did not find it. So we asked our friend and engineer Andrè Böhme to consult us in constructing our own mobile flypack. We also asked our friend Livian to reduce the computers size to 3RU – he did what some big companies we asked before couldt not accomplish. And we wanted at least two monitors (maybe more to attach), a powerful yet silently running computer, good network capabilities and physical inputs for at least 4 HDMI inputs and 4 SDI inputs/outputs. There should be enough space inside the streamioONE to accomodate a router, a PoE Switch and a DANTE Audio device. There should be enough holes to mount connectors, such as XLR, Ethernet or PowerCon. We wanted it as small as possible because we love to transport it by cargo bike – but this another story to tell. We first went to wooden casings (too bulky), then just steel (too heavy) and ended up with aluminum, which is not eexactly enviromental friendly but lightweighted and sturdy. We tried to find a format with as less single parts to be lasercutted as possible and it should look nice because we are often sitting within the audience in the same room. The monitors needed to be positoned in a wide range to accomodate sitting and standing working positions for a long time. At the end (february 2023) streamioONE and streamioTWO (spoiler) were born. And here they are: easing up the work of livestreamers, audio guys and maybe gamers. Or all people in need for a quick setup of a powerful computer with a lot of screen space.
Actually it is not the end but the beginning of something we did not do before:
producing and selling a piece of hardware. To minimize risk we plan a series of 30 units and try to get preorders for it. But the way from preorder to an actual payment is long and we do not know if erveryone who says "I want his" will later on do the next step and pay for it. From our side we know that we will deliver – because we always do and are used to keep promises. To encourage people to actually do the second step, we will offer a discount for those who are willing and pay a small amount in advance and we will give an even bigger discount for those who are trustful and pay the whole amount in advance. As soon we have 30 orders with installment paid we will start production.
Specs
This is what you get when ordering streamioONE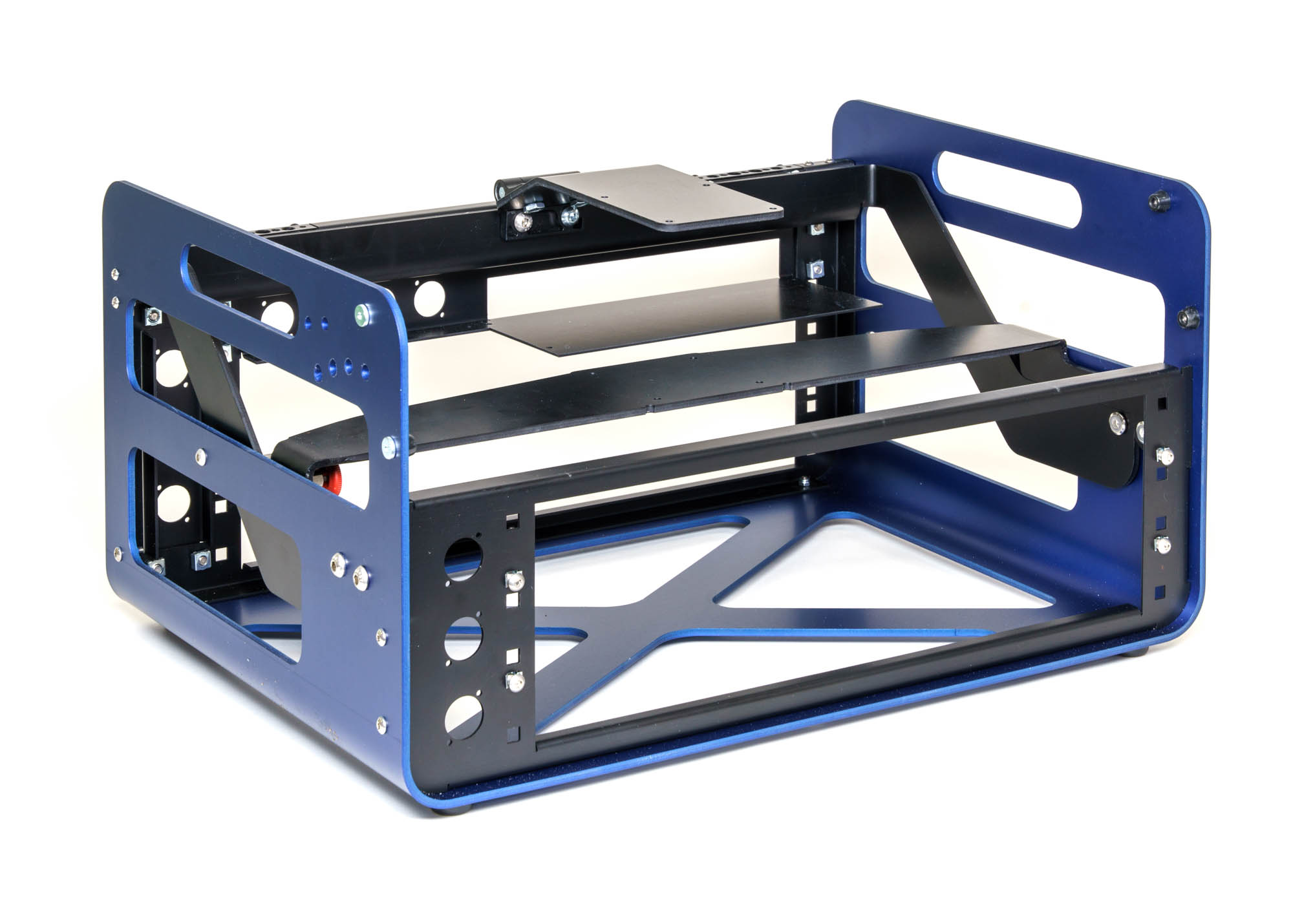 – completly assembled empty housing as shown above
– 570mm x 405mm x 300 mm (22.44 in x 15,94 in x 11.81 in)
– weight is 6,9kg (15.2 pds)
– lasercut anodized aluminum 5mm + 1,9mm (0.1969 in + 0.0748 in)
+ two mounting plates for 100x100mm (3.94 x 3.94 in) + screws for Monitors

– Ready for two 24″ Dell P2418HT touchscreen displays
– Ready for 19″ 3RU shallow (38cm) server casing
– Fits perfectly in a Pelicase1637

Here is what we put in our machine with great success and reliability – but of course we leave it up to you to find even better solutions or parts – let us know. Just to clarify: the following items are not part of streamioOne – just a suggestion, which worked pretty good for us:
–
– AMD Threadripper 3960X
– Thermaltake Water 3.0 Riing RGB 360
– Mainboard MSI TRX40 PRO WIFI
– G.Skill DIMM32 32 GB DDR4-3200 Quad-Kit
– PNY Quadro RTX A5000 24GB
– Samsung Evo Plus 2TB, NVMeSSD
– Server Rack yakkaro #2003 (19″ 3RU 38cm)
– Blackmagic Design decklink 8K pro
– Elgato CamLink Pro (4xHDMI in)
– Two 24″ Dell P2418HT touchscreen displays
– PoE++ Switch Netgear GS110TUP
– Ubiquity Edgerouter X SFP+
– Neutrik Dante Interface NA2-IO-DLINE
We will attach a more detailed list of parts which worked for us and help you to stuff the inside with the best possible solutions to get your streamioONE alive.
Regular price
+ Shipping
+ VAT (if applicable)
100€ rebate
Pay by march 22nd 2023 300€ as installment
+ Shipping
+ VAT (if applicable)
200€ rebate
Pay full price by march 22nd 2023 
+ Shipping
+ VAT (if applicable)
Pricing - Details
There is a kickstarter.com
crowdfunding campaign for the streamioONE, which will give you maximum
certainity to get your money back if we fail to deliver. This took some time to setup, and it will is a more expensive since
they charge additional 5+3% for transaction and services.
Timetable
We collect orders and money till March 22nd 2023
We start manufacturing March 16th 2023
We define number of units to be manufactured March 23rd
We expect to get the streamioOne ready for shipping April 15th 2023
We ship april 16-19th 2023
You enjoy – as soon you get it.
Meanwhile we keep everbody updated about the ongoing production. Beforehand we can discuss the best shipping method for your destination – of course you can also pickup streamioONE in our studio in Leipzig/Germany and we'll have a good coffee and a nice chat  on livestreaming and AV machinery…
streamioONE - comments and questions